A Sign Company's History. . .



Soha Sign Company's pride in craftsmanship and artistry began with Clyde and Pauleen Soha in 1949. As young newlyweds and entrepreneurs, Clyde and Pauleen were part of the very history of Clark County. Clyde helped to create the identities of many start-up businesses in Vancouver. His first professional job as a sign painter was for Vancouver's Mission Theater where his task was to paint window displays of upcoming movies. The first vehicle lettering job Clyde completed was a truck for Beverly Hills Pharmacy. Dedicated to their new business, Clyde and Pauleen recall working six days a week painting signs for businesses throughout Clark County. To this day, senior members of Vancouver's business community remember Soha Sign Company and hold Clyde and Pauleen in fond regard.

In 1987 Mike Starks began working with Clyde at Soha Sign Company. Mike apprenticed with Clyde learning hand lettering, gold leaf, layout, and all aspects of running a busy sign shop. Although Mike learned quickly and had great respect for the artistry of old-school sign painting, he realized that the shop needed to expand it's capabilities in order to survive. Up to this point of the company's history, the most complex piece of technology the shop owned was an electro-pounce and it's primary tool of production was a paintbrush. In 1988 John Renkie of Pacific Coast Paint introduced Mike to a Technoarts hot tip vinyl-cutter. With a little encouragement Clyde and Pauleen allowed the rapidly approaching age of digital graphics to begin changing the way their company had produced signs for over thirty years.
In 1993 Clyde and Pauleen retired and passed on their company to Mike. Today Mike continues to honor the artistry of Clyde Soha while constantly adding to the technological capabilities of Soha Sign Company. Soha Sign Company now creates custom signage for companies using an endless variety of techniques and styles. With the added creative talents of Joe and Heath, Mike keeps moving Soha Sign Company to new levels of advertising excellence. Today, Soha Sign continues to distinguish itself from other sign companies with experience, industry knowledge, creativity, and a proud tradition of shaping business identities that began in 1949.

Sign-Painters' History. . .
Clyde and Pauleen Soha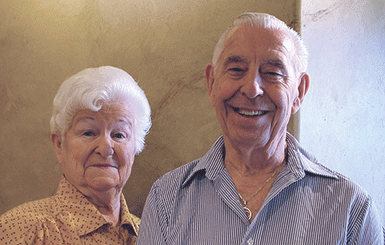 Odd as it may seem, the story of Soha Sign Company and it's creators is held together by an unlikely thread. A thread that can be found at the core of both Clyde and Pauleen. It drew them together as well as so many others so crucial to the outcome of this story. That thread was a weave made up of both art and dance and it guided our characters through many adventures. How many of us truly follow what inspires us? Do we settle for just a job or build our lives around something inside that can truly be called a passion?

Clyde Soha was born in Ridgefield, Washington in 1921. After attending Baker Elementary School in Ridgefield, Washington, Clyde then went to Shumway Junior High and eventually graduated from Vancouver High School in 1939. Art and dance were the two creative passions that shaped Clyde Soha's life. Clyde's talent for art became evident in High School with his creation of an animated film called The Bear Facts. Once he graduated from high school Clyde decided that he wanted to become part of Walt Disney Productions and moved to Los Angeles.

It was Clyde's second passion, dance, that by pure chance led him to the sign industry. One night at the Zanda Ballroom in Los Angeles, Clyde met a man named Gamp. It was no wonder that Clyde's own friendly, upbeat personality drew him to this colorful character who got his own start painting signs for the circus. Clyde became an apprentice to Gamp thus began his own career as a sign-painter. All went well for Clyde with his new trade until a truly dark day in history shifted not only his path but that of our entire country for years to come.

In 1942, after the attack on Pearl Harbor, Clyde joined the navy. Although Clyde had the opportunity to remain in San Diego during the war and paint signs for the Navy he felt compelled to fight for his country. Clyde's first naval assignment was to the USS Thatcher which soon launched for the South Pacific, heading straight for trouble. The USS Thatcher saw over 12 major battles and landings in the South Pacific during Clyde's enlistment. Clyde recalls the fiercest battle of his service to be when the USS Thatcher was ordered to intercept a force of enemy cruisers and destroyers bent on destroying American shipping in The Battle of Empress Augustus Bay. Other battles he and his crew were involved with included: Midway, Okinawa, Soloman Islands, Guadalcanal, Guam, and Fiji. This ship with memories made with his shipmates proved to be an important part of Clyde's journey. He recalls surviving three typhoons with his shipmates and even witnessing a kamikaze pilot thundering into the side of the USS Thatcher.

With service to his country completed ,Clyde returned to Los Angeles to continue working for Gant. Eager to further his career in the sign industry Clyde enrolled in the Frank Wiggins Trade School (now a Los Angeles technical community college). There he met Pauleen who was attending the college to learn window decorating so she could work for her uncle after graduation. The two met as Pauleen learned to paint showcards and banners for window displays. By day each would diligently work to learn their trade and by night Clyde would teach Pauleen to dance. Clyde and Pauleen became well known for their skills in the Jitterbug, West Coast Swing (eventually even meeting the creator of the West Coast Swing Dean Collins), West Coast Whip, and were recognized for their arial acrobatics. Clyde and Pauleen appeared dancing behind Red Skeleton on a television show. Favorite dance venues for Clyde and Pauleen were the Trolville Club, Castle Club in Vancouver, the basement of Penny's and Little Sandy's where they ran Jitterbug contests. On June 9th, 1948 Clyde and Pauleen were married. Shortly after they were married the young couple moved to Vancouver, Washington for a new adventure together.

Soha Sign Company had very humble beginnings. Clyde and Pauleen purchased the original property, formerly a garden, from a gentleman for one thousand dollars. The poor man was disgruntled with his own children and so virtually gave the piece of land to the lucky young couple. In 1949, on that very spot Clyde and Pauleen built their shop and began building a legacy that many distinguished business owners of today remember well. From neon and mini billboards to vehicles and window displays Soha Sign Company became an important part of the Vancouver business community. In the early days of Marshall Center Clyde even remembers painting signs for the Trapedero Club, a teen dance club at Marshall Center. Civic minded as well, Clyde and Pauleen helped build floats at the old Lucky Lager plant in downtown Vancouver, they made Little League signs and helped out wherever they were needed. Eventually Clyde and Pauleen met Mike Starks at Vancouver Marshall Center where they danced regularly. Mike was working at the center when he saw the accomplished dancers and had to find out more about them. Little did any of them know that one day Mike would be the one to carry on the Soha Sign Company legacy Clyde and Pauleen had worked so hard to build.

Today Clyde and Pauleen, married 63 years, are retired and enjoying life in their lovely home here in Vancouver. They enjoy spending time with their daughter Carla and Clyde fills the downstairs of their home with his creative caricatures and art. Pauleen is still busy though, keeping Clyde out of mischief.